Letters from Frank
~ ~ ~
George W. Bush's Secret Psychic


September 11th prevented a Russian nuclear suitcase in Washington DC from detonating for the 2002 State of the Union address, providing me a window of opportunity to contact the White House and begin my work.

2,977 Heroes gave their lives on 9-11 that we might survive.

Libya's Muammar Gaddafi wanted to kill the entire Bush family because of the F-111 attack in August 1986 ordered by VP George H.W. Bush.

Katie Couric (NBC Today, CBS News, 60 Minutes, and Yahoo News) said...
"Intriguing read" "Stepped on toes" "Reluctant to share" "Very colorful life" "Can I keep the book?"

Dragonfire must be my CIA code name in the 2010 History Channel movie Day After Disaster even though I am not affiliated with any governmental agency. The facts in the Dragonfire clip are eerily similar to the first three Letters in my book, except for typical White House misinformation.

I prevented three nuclear attacks on American soil in 2002, 2003 and 2008.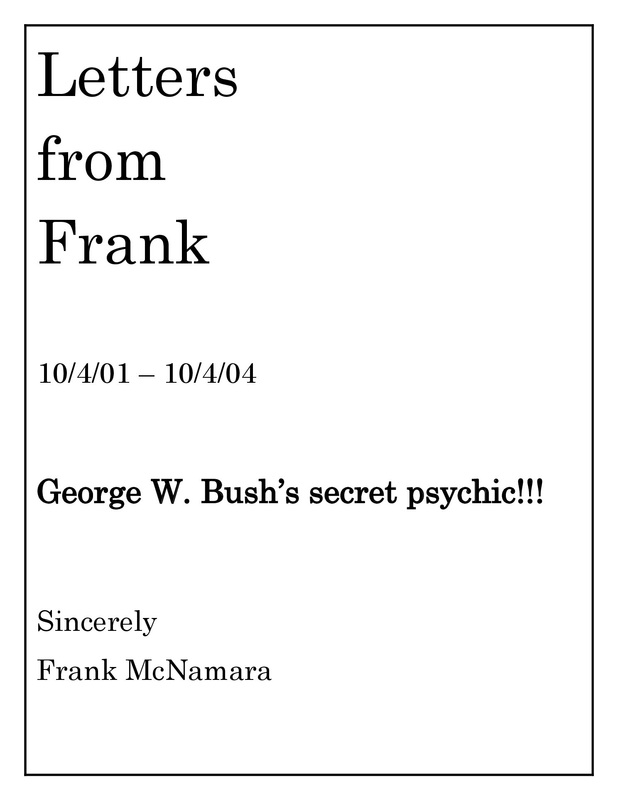 'Letters' Flipping Book is FREE and readable on all devices.
iPad - iPhone - Android - Windows.


'Letters' reads best in hard-copy format with Letters on the left and Annotations on the right.

Download Letters.PDF Download from PowWeb's secure server to your computers desktop.
Click "NO" to Full Screen popup. Enjoy the two page spread at your leisure.

Website design, content and photography by Frank McNamara

Letter Annotation

If you like the book, you will love the movie.
See the Movie Blog.